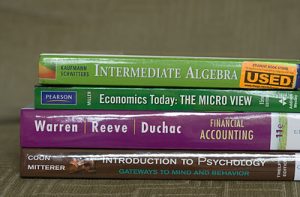 Need to check out a textbook? The University Libraries has textbooks from among the largest classes on campus. Starting this semester, we also have all of the required textbooks for Arrupe College courses.
Why do the Libraries offer textbooks? During the 2018-19 academic year, the average undergraduate student needed to budget $1,240-1,440 for books and related supplies. With textbook prices continuing to increase, lack of affordability can lead students to not purchase required books for their classes, or purchase out-of-date editions instead. This can then lead to worse grades, dropped/failed courses, and avoidance of certain courses altogether. Simply put, we understand that affordable textbooks are crucial to academic success. Our textbook program is an effort to provide equitable support to your studies at Loyola.
To check out a textbook from the Libraries, please visit the Circulation Desk in Cudahy Library (1st floor) and/or Lewis Library (Corboy Law Center, 6th floor). You can check out a textbook for 4 hours at a time. To find out if the textbooks for your class are available, search for textbooks here.
Questions or comments? Please contact us at cud-circ@luc.edu.