During the month of December, Loyola Libraries staff make lists and check them twice. What are these lists about? Anything! You can look at past years' lists here, and stay tuned for more lists all month long! Without further ado…
Emily's 9 Coffee Hangouts for Concentration
Need a change of scenery to get your studying groove back? Tired of running into everyone you know at Metropolis? Try these places with great drinks and chill vibes.
1. Emerald City Uptown
1224 W. Wilson Ave
https://emeraldcitychicago.com/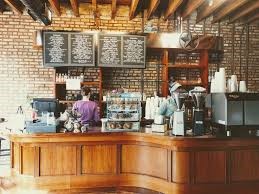 Features an inventive coffee menu plus baked goods and a small selection of larger food options. This place has mostly low and high table seating, plus a few couch spots near a fireplace. Brick and wood give it a cozy feel, as does a jigsaw puzzle near the counter to entertain you while you wait.
2. Heritage Outpost Lawrence House
1020 W. Lawrence St
https://www.heritagebicycles.com/pages/heritage-outpost-lawrence-house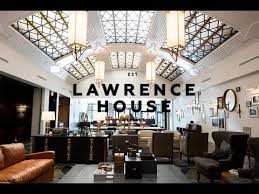 This incarnation of the Heritage Outpost/bicycle chain is only a small nook, but opens up onto the vintage-glamour lobby of the Lawrence House apartments. Choose to sit at long wooden tables or to sink into the richly-coloured tufted furniture.
3. Nighthawk
4744 N. Kimball Ave
https://www.nighthawkchicago.com/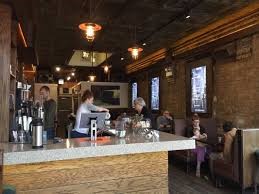 This craft coffee and cocktail bar is a pleasant place to hunker down and work during daytime hours, before the bar crowd takes over. Baristas take as much care with the coffee as the cocktails, and the best of them can pull an exquisite latte. Features a handful of large booths, though studying at the bar itself is not uncommon.
4. Two-Hearted Queen
1201 W. Roscoe St
http://twoheartedqueen.com/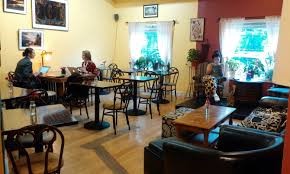 A cheerful "neighborhoody" place with standard coffee fare plus a small menu of jazzed-up drinks, baked goods and panini. Has mixed table and furniture options for seating, and the back room boasts rotating series from local artists. Get your cup for free if you draw the Queen of hearts from a deck on the first try.
5. The Perfect Cup
4700 N. Damen Ave
http://www.perfectcupchicago.com/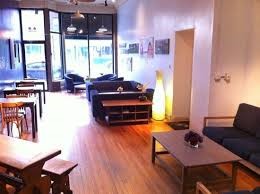 Another neighborhoodish jaunt with a vibe similar to the Queen, but with tall street-facing windows in both rooms that give a lighter, airier feel. Several upholstered couch and chair clusters serve as good group study spots. Has a more extensive food menu than most coffee shops, with options like yogurt parfaits, egg breakfast wraps, sandwiches, and salads.
6. The Coffee Joint
2059 W. Irving Park Rd
https://coffeejoint.com/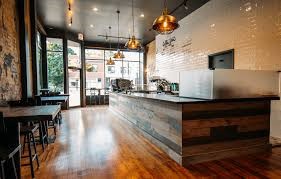 Somehow the white tiles, blackboard, wood and brick of this minimalist modern hangout blend to create a comfortable place to focus with few distractions. Has a curated menu of coffee selections, single-origin teas, sandwiches, and kid-friendly offerings. You can buy their beans here as well.
7. Avondale Coffee Club
3185 N Elston Ave
https://www.avondalecoffeeclub.com/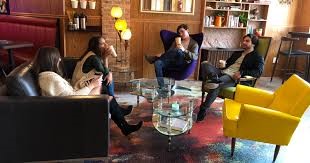 Avondale Coffee Club has a mod vibe that mixes brightly colored furniture with dark wood, brass and crystal fixtures, and a bevy of wall-mounted plants. You have your choice of upholstered furniture clusters (good for a group) or smaller 1-2 person tables and chairs.
8. Finom
4200 W. Irving Park Rd
https://finomcoffee.com/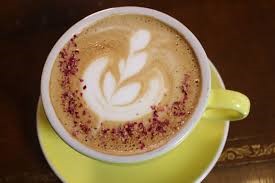 This cozy nook features Hungarian-themed food and drink that rivals a gastropub in use of choice, unusual ingredients and flavors. Aside from a full complement of standard coffee fare, it features specialty coffees with flavors like cardamom and rose water, chocolate and paprika, and sweet milk and peanut marzipan. Behind a series of solid wooden tables is a small area with a couch and shelves of books for pleasure reading.
9. Everybody's Coffee
935 W. Wilson Ave
everybodyscoffee.com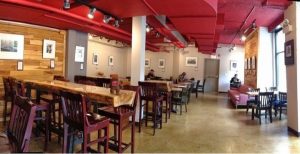 Everybody's coffee manages to make a rustic-industrial space feel warm and inviting with long natural wood tables and ample space. In addition to standard coffee and tea options, the menu includes baked goods, breakfast fare, sandwiches, and grits.
MEET THE WRITER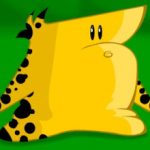 Emily is an Instruction and Information Services Intern in Cudahy Library/IC. She's the one with purple hair. Predictably she enjoys music, cats, and knitting, and thinks Interactive Fiction is a great way to goof off while it looks like you're working.