During the month of December, Loyola Libraries staff make lists and check them twice. What are these lists about? Anything! You can look at past years' lists here, and stay tuned for more lists all month long! Without further ado…
Best of the Decade: Top 20 Films of the 2010's
By James Conley, Media Services Librarian
The years from 2010-2020 have brought us a slew of new artistic achievements in cinema. Sure we've also had plenty of duds and schlocky cash-grabs, but we've also had the rise and endurance of entirely new sub-genres. The 2010's were as much defined by franchise films like those of the Marvel Cinematic Universe and DC Expanded Universe as they were by the deep diversity of first time directors and actors, taking chances to push the boundaries of genre film and to explode audiences' expectations about what going to the theater meant. As more and more films and shows were released by and on platforms like Netflix and Amazon the worry of cinema becoming something for the small screen permeated the platforms of auteur directors and classicists. In the end we've found something of a hybrid- films produced by streaming services getting both a home and theatrical release won accolades from the Academy and we began to see that one does not necessarily require the death of the other. Like most things in this world cinema found a way to adapt.
This list, while in my personal order of impact, could have ended up in many different configurations. I started with ten films, then twenty, then I though about fifty. I ended up back at twenty because it seemed to strike a balance for my absolute favorite titles. The first ten also contain my thoughts on the experience of the film and the bottom ten are just accompanied by stills I think encapsulate great cinematic moments. I'd love to hear your thoughts and your picks, feel free to reply at the bottom of this post or e-mail me directly!
1. Under the Skin (2013) Directed by Jonathan Glazer, Starring Scarlett Johansson
This film, as the title suggests, got completely under my skin when I saw it at the Gene Siskel in 2014. The film's score (a must-have on vinyl by the brilliant Mica Levi) sets the perfect pitch for this lushly shot film about an alien's observations and interactions with humanity. One part mild existential horror, one part rumination on humanity, Under the Skin tells an almost dialog-free story on the strengths of its cinematography, sound design, score, and Johansson's ability to convey a wide gamut of emotion with her body language. Borrowing some thematic and stylistic elements from classic films like Kaneto Shindo's Kuroneko, Under the Skin is my favorite film of the decade.
2. The Handmaiden (2016) Directed by Park Chan-Wook, Starring Kim Tae-ri and Kim Min-hee
The Handmaiden is, hands-down, the most exhilarating and joyous queer film I've ever seen. The story centers around a con-artist duo in Japanese-occupied Korea attempting to bilk a Japanese aristocrat out of her fortune under the nose of her disturbingly controlling uncle. This plan, designed in precise detail, quickly goes off the rails as emotions run high and the story twists and turns into a propulsive, thrilling finale that subverts the usual genre tropes and becomes something hilarious, disturbing, and joyous all at once.
3. A Girl Walks Home Alone at Night (2014) Directed by Ana Lily Amirpour, Starring Sheila Vand
A skateboarding vampire haunts a town called "Bad City" and takes revenge on the worst people in town, a queer cowboy dances around an open lot with a mylar balloon, and a black cat steals every scene it's in- sign me up! A Girl Walks Home Alone at Night is the too-cool and tons of fun story of a young Muslim vampire skating around a down-and-out town and defying the trope of becoming the victim, instead becoming a fun, ferocious protagonist and the star of this film.
4. Annihilation (2018) Directed by Alex Garland, Starring Natalie Portman and Tessa Thompson
ANNIHILATION, ANNIHILATION, ANNIHILATION. This refrain is delivered with the same disorienting tension in Garland's film as it is in Jeff VanderMeer's text that it's based off of, but similarities are rare between the two. Instead of a direct adaptation of the first book in VanderMeer's Southern Reach Trilogy this adaptation is a true "inspired by" take on the text, and this is for the better. The undercurrents of tension and wonder from the book are present on the screen but Garland takes the material and truly makes it his own, crafting a brutal and stunning world and a story that delves into the pain and depths of depression, anxiety, and losing yourself. The performances by the main leads (also including Jennifer Jason Leigh, Tuva Novotny, and Gina Rodriguez) are raw, fragile, and do an incredible job of bringing you into this world. Geoff Barrow (of Portishead fame) crafted a score that underlines how unsettling the world of Area X is and how the space changes all who enter it, or the viewers who watch it.
5. Blade Runner 2049 (2017) Directed by Denis Villeneuve, Starring Ryan Gosling and Ana de Armas
The original Blade Runner remains one of the formative films of my childhood. It's one of the original reasons that I fell in love with film and the Science Fiction genre. I did NOT think that a remake or sequel could or would live up to the heights of all that nostalgia. I'm absolutely floored to say that I found Blade Runner 2049 to not only meet the mark of the original, but vastly surpass it. Roger Deakins finally won his long-overdue Oscar for the cinematography in the film, Hans Zimmer adapts and expands on the iconic Vangelis score of the original, and the script and direction are interested in the motivations of all of the main characters on screen. Watching the films back to back it's now hard to watch the original, with women who die often without more than a few words, murky or non-existent character motivations, and a healthy dose of toxic masculinity. 2049 by contrast is interested in why these characters move through the world as they do, with absolute standout performances by Ana de Armas, Robin Wright, Mackenzie Davis, and Sylvia Hoeks. With just enough reverence for the original Villeneuve is interested in a bigger mystery and the possibilities of a more complex future beyond the film. Blade Runner 2049 is the best form of honor and adaptation rolled into one gorgeous package.
6. Logan (2017) Directed by James Mangold, Starring Hugh Jackman and Dafne Keen
How did an X-Men franchise film end up as one of the best films of the decade and simultaneously my pick for the best comic book adaptation ever made? Simple- James Mangold took the famous "Old Man Logan" comics run and made it feel real-world and prescient. Is Logan violent and gritty? Yes. But it's not gritty for the sake of being "gritty" as so many films are now in an attempt to take themselves seriously. This is a film set in a sci fi future with mutants and cyborgs but what the film is actually about is the bonds of family, the pain of watching loved ones deteriorate into the arms of dementia, and the knife-edge walk of a man whose life no longer seems worth living. Set in a world where the dream of Charles Xavier has died and the mutant minority is being eradicated by science and the government, there are many real-world connections to be found here dealing with the pain of familial separation and state-sponsored racism, but what stands tall are the moments of hope and beauty with a family who have been through it all yet find the strength to stay together and support one another.
7. Parasite (2019) Directed by Bong Joon Ho, Starring Wook-sik Choi and So-dam Park
What to say about the brilliant Parasite that hasn't already been said this year? A stunning portrait of the clash of social and economic classes and a deeply unnerving mystery thriller so perfectly paced that it takes you entirely by surprise. This is not the film you think it is and the fact that the trailers for it are so perfectly ambiguous is a true gift in an age where trailers give you the entire plot. The performances are some of the best I've seen on screen in ages and the film is at once funny, tender, and terrifying and Bong Joon Ho deftly demonstrates his mastery of the medium once again. Do not miss Parasite.
8. Carol (2015) Directed by Todd Haynes, Starring Cate Blanchett and Rooney Mara
A new essential queer Christmas film for me and so many in the community, Carol lovingly tells the story of two women who meet by chance in 1950's New York and experience the "love that dare not speak its name" together over the course of a winter. Having a queer director, writer, and source-material author really shows in the nuance of the film's story and direction, and it's also notable for showing the queer families we build when our blood relatives can't or won't accept and understand us. It's a beautiful portrait of two women in love and how painful and thrilling that experience can be.
9. Tangerine (2015) Directed by Sean Baker, Starring Kitana Kiki Rodriguez and Mya Taylor
Runner up for favorite queer Christmas film, Tangerine tells a funny, kinetic, and poignant story of two transwomen sex workers and best friends marching around Los Angeles on Christmas Eve looking for one of their boyfriends. Along the way they encounter the many friends, Johns, and other wild characters that make up their lives and hold each other up along the way. With an incredible driving soundtrack Tangerine is propulsive in the way it moves on screen and into your heart, culminating in an incredible Christmas scene in a donut shop that will stay with you long after the credits roll. Sean Baker smartly cast two trans actresses in the roles and worked with them to re-write much of their characters and the script to reflect their real lived experiences, and Mya Taylor later that year became the first trans actress to take home the best lead actress award at the Independent Spirit Awards.
10. Moonlight (2016) Directed by Barry Jenkins, Starring Alex R. Hibbert and Mahershala Ali
Moonlight's tender and sometimes painful story of a young man growing up and finding himself deservedly won the Best Picture Oscar beyond all the competition. Barry Jenkins crafted a story that lives in the moments of a life, from childhood, to adolescence, to adulthood. It's in exploring Chiron's journey into himself as a man that the audience is brought along on the confusion of blossoming love and the difficulties of family, shot lovingly through the camera and with stellar supporting performances by Janelle Monae, Naomi Harris, and Trevante Rhodes.
The Rest of the Decade:
11. Roma (2018) Directed by Alfonso Cuaron, Starring Yalitza Aparicio
12. Black Panther (2018) Directed by Ryan Coogler, Starring Chadwick Boseman
13. Black Swan (2010) Directed by Darren Aronofsky, Starring Natalie Portman
14. Interstellar (2014) Directed by Christopher Nolan, Starring Matthew McConaughey
15. Weekend (2011) Directed by Andrew Haigh, Starring Tom Cullen
16. Only Lovers Left Alive (2013) Directed by Jim Jarmusch, Starring Tom Hiddleston
17. Beasts of the Southern Wild (2012) Directed by Behn Zeitlin, Starring Quvenzhané Wallis
18. Mad Max: Fury Road (2015) Directed by George Miller, Starring Charlize Theron
19. The Witch (2015) Directed by Robert Eggers, Starring Anya Taylor-Joy
20. The Master (2012) Directed by Paul Thomas Anderson, Starring Joaquin Phoenix
MEET THE WRITER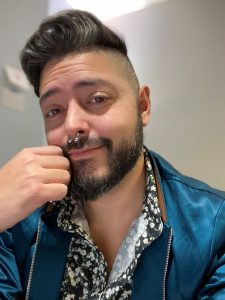 James Conley is your friendly Loyola Media Services Librarian and has been for over half a decade now. In addition to managing the collections on DVD and streaming of the libraries' film collections he also cohosted a queer film podcast, volunteers for the Gerber/Hart Library & Archives as an exhibition curator, is on the editorial board of the Video Game Art Reader, and is an avid film goer. In his free time he likes to spend time with his partners, play video games, take on new and exciting baking challenges, and to attempt to catch up on all the must-see event television of the year.